About The Dog Walker Houston
Ben (Founder of The Dog Walker)
We started The Dog Walker in 2006, with the goal in mind to provide reliable, professional pet care to owners who consider their pets an important part of the family. We have quickly become one of the most trusted and recognized names in dog walking and pet sitting We have proudly been serving Houston for the past 10 years and recently branched out into Austin. We even won The Houston Press "Best dog walker" award in 2009. We pride ourselves on developing personal relationships with all of our clients and their pets. As a client, if you ever have a pet care question or special need, you have someone to call who is always available and will come up with the perfect solution for your pet care needs.
Our Walkers
The hiring of employees is perhaps the most important and difficult job facing any pet care company with high standards. Our job not only entails entering people's private homes on a daily basis, but also the care of living creatures who are beloved members of our client's families. For this reason, we have always taken great care to hire respectable and responsible animal lovers who have good backgrounds and have had prior experience with animals – either through lifelong pet ownership or through prior animal-related employment. The Dog Walker doesn't hire new staff very often. We would rather sacrifice growth and profit than compromise on the care of your pets by operating a revolving door of casual workers on minimum wage. Our staff is comprised of legally registered employees who are paid the lion's share of our revenues. Our hiring philosophy is that you get what you pay for. When it comes to the safety and happiness of your pets, we won't take second best!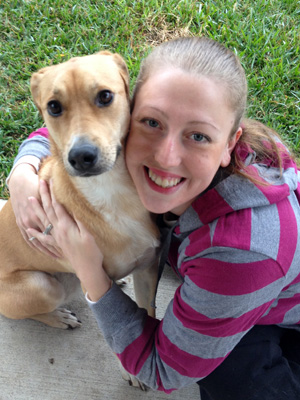 Jess -Manager
I grew up around all kinds of animals – dogs, cats, horses, fish, gerbils, hamsters – and have been an animal lover for as long as I can remember. After moving to New York City to pursue a dance career, I somehow ended up working a "9 to 5". That boring job made me realize I wanted to love what I do for a living! I started working at a dog daycare/boarding facility where I gained experience interacting with every possible size and personality of dog there is. I also was able to take classes in dog behavior and body language. I enjoyed working with large groups of dogs but much prefer being a dog walker and interacting with dogs on a more individual level. I currently have two of my own – Buffy, a rescue lab mix, and her friend Amigo, a rescue chihuahua mix. Now, I can finally say I love my job!
James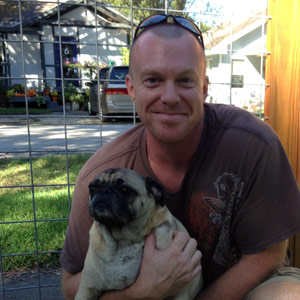 Hi! I'm James DeJarnatt a native Houstonian and longtime dog lover. After spending nearly 20 years in corporate sales I started working for Ben, a longtime friend, as a dog walker. I grew up around all kinds of dogs and have always loved all of the different personalities and characteristics that exist from breed to breed. I love working for The Dog walker as it allows me time and freedom to pursue my music career and my passion for surfing. I look forward to meeting your dog and providing excellent care and companionship!
Ashleigh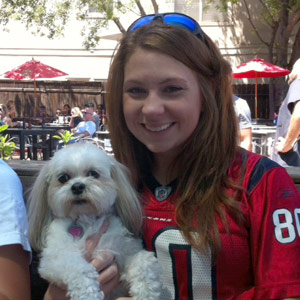 I grew up just south of Houston and went to college in San Marcos at Texas state where majored in mass communication. After I graduated I adopted my super sweet and adorable shih tzu, Marley. I love to spend time with the dogs and study their drives and personalities, on display during our walks. Since all our walks are one on one at The Dog Walker we really get to know each dog on a personal level and develop a relationship with them.
Derek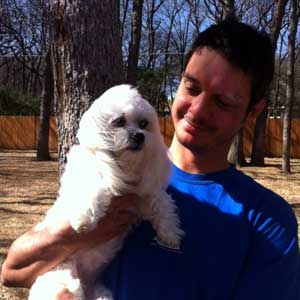 As a young boy growing up I always had a strong attachment to animals, especially dogs. Last summer I found my dog Barrington wandering all by himself and picked him to see if I could find him a home. However I soon realized he would be staying with me, as we became buddies. I love working for the Dog walker because I get to develop a close bond with dogs and watch them get excited the minute I reach for the leash, as they know it's time for a walk! It also gives me the flexible schedule to practice and teach Brazilian Jiu-Jitsu at Urban Jungle self defense in the Heights where I'm the head instructor for all kids classes. After working with kindergarten-aged kids handling dogs is a walk in the park or a run or jog…or whatever your dog needs.
Makayla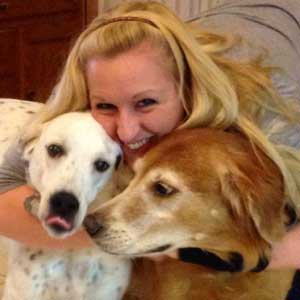 I learned early that "home is where your dog is", and I have adopted lots of different animals from dogs and cats, to a sugar glider and furry little rodents. I've also taken care of many others…have you ever seen a miniature horse get walked down the street? If you have it was probably me! My friends and family call me the "animal whisperer" or "Dr. Doolittle", but you can just call me Makayla! I'm so excited to have finally found my dream job! Looking forward to meeting you and your pets!